Began Oct. 4, 2018; transitioned to Expedition 58 on Dec. 20, 2018
First Part
Transferred from Expedition 56
Alexander Gerst, ESA
| Commander
Sergey Prokopyev, Roscosmos
| Flight Engineer
Serena Aunon-Chancellor, NASA
| Flight Engineer
Launched: June 6, 2018, aboard Soyuz MS-09
Landed: Dec. 20, 2018
Second Part
Docked Dec. 3, 2018
Oleg Kononenko, Roscosmos
| Flight Engineer
Anne McClain, NASA
| Flight Engineer
David Saint-Jacques, CSA
| Flight Engineer
Launched: Dec. 3, 2018, aboard Soyuz MS-11
Expected landing: June 2019
Expedition 57 was originally to include Russian cosmonaut Aleksey Ovchinin and NASA astronaut Nick Hague. However, during their ascent into orbit Oct. 11, 2018, in their Soyuz MS-10 spacecraft, their carrier rocket experienced a failure. Failing to reach orbit, they landed safely and did not join with Expedition 57.
Max. crew size: 6 (5 originally planned)
Started: Oct. 4, 2018
End: Dec. 20, 2018
Duration: 77 days
Orbits of Earth expected: ~1,200
Launch site: Baikonur Cosmodrome, Kazakhstan
Spacecraft: Soyuz-MS-09, Soyuz MS-11
Experiments conducted: 100+
Spacewalks: 1
Total spacewalk time: 7 hours, 45 minutes
Visiting vehicle arrivals: 3
Visiting vehicle departures: 1
— Mission Summary —
Expedition 57 was tasked with performing dozens of experiments and overseeing the arrival of several cargo resupply vehicles and perform spacewalks. The initial three-person crew — European Space Agency astronaut Alexander Gerst, NASA astronaut Serena Aunon-Chancellor and Russian cosmonauts Sergey Prokopyev — was expected to be joined by Russian cosmonaut Aleksey Ovchinin and NASA astronaut Nick Hague on Oct. 11, 2018. However, an abort during their ascent in Soyuz MS-10 prevented them from joining the crew. They were instead joined by Russian cosmonaut Oleg Kononenko, NASA astronaut Anne McClain, and Canadian Space Agency astronaut David Saint-Jacques.
— Major Events —
Expedition 57 begins
At 07:57 UTC Oct. 4, 2018, Soyuz MS-08 undocked with Russian cosmonaut Oleg Artemyev and NASA astronauts Drew Feustel and Ricky Arnold. They left behind Russian cosmonaut Sergey Prokopyev, NASA astronaut Serena Aunon-Chancellor and European Space Agency Alexander Gerst to form the first part of Expedition 57.
Feustel, who was commander of Expedition 56, handed over command of the space station to Gerst the day before he left. The remaining trio were expected to be joined by Russian cosmonaut Aleksey Ovchinin and NASA astronaut Nick Hague when they launched toward the outpost on Oct. 11.
Soyuz MS-10 launch failure
For the first time in International Space Station history, a crew failed to reach orbit. The spacecraft's escape system safely pulled Soyuz MS-10 with its two-person crew away from the failed booster.
Ovchinin and Nick Hague lifted off atop a Soyuz-FG rocket at 8:40 GMT Oct. 11, 2018, from Baikonur Cosmodrome. Around the time of the separation of the four strap-on boosters — about 2 minutes into the flight — was when the issue occurred.
The crew was unable to use the spacecraft's abort tower as it had been jettisoned seconds earlier. Instead the thrusters on the fairing around the Soyuz spacecraft were used to pull the spacecraft away from the failing rocket. This placed the capsule onto a ballistic trajectory, resulting in high gravity loads on the crew during its re-entry into Earth's atmosphere. Their g-force was reportedly 6 or 7 times that of Earth's gravity.
Search and recovery teams reached Ovchinin and Hague immediately after they landed in their capsule, according to NASA. The pair ended up landing about 12 miles (20 kilometers) east of Zhezkazgan, Kazakhstan.
Kounotori 7 departure
Following a six-week stay at the International Space Station, the Japan Aerospace Exploration Agency Kounotori 7 cargo ship was unberthed and commanded to depart the vicinity of the orbiting outpost.
Launched Sept. 22, 2018, atop an H-IIB rocket from the Tanegashima Space Center in southern Japan, Kounotori 7 spent several days catching up with the outpost before rendezvousing and berthing with the ISS on Sept. 27. It brought with it some 6,000 kilograms of equipment, supplies and experiments to the outpost, including new lithium-ion batteries.
After being unloaded of its cargo and reloaded with unneeded equipment, European Space Agency astronaut and Expedition 57 Commander Alexander Gerst commanded the 17.6-meter Canadarm2 robotic arm to release the cargo craft at 16:51 UTC Nov. 7.
Absent from the cargo craft was the Exposed Pallet that brought up the lithium-ion batteries. They were supposed to be installed by spacewalking astronauts in October 2018, but because of the Soyuz MS-10 abort, that activity was postponed.
Under the new plan, the batteries will remain at the ISS in the Exposed Pallet attached to the Mobile Base System on the outpost's truss until they are installed, which is currently expected in early 2019.
Once Kounotori 7 undocked, it continued to move away from the space station before performing a deorbit burn at about 21:14 UTC Nov. 10. While the cargo craft itself is designed to burn up safely over the ocean, a small test reentry capsule was installed on the hatch of the ship and was deployed before entering the atmosphere.
After re-entry, the capsule is parachuted down off the coast of Japan where a JAXA ship recovered it from the water.
Progress MS-11 arrival
In the weeks after the failed Soyuz MS-10 launch, the Roscosmos State Corporation for Space Activities found that an improperly-installed separation sensor caused one of the four boosters on the Soyuz-FG rocket to remain attached to the ascending vehicle. Additionally, several flights of Soyuz 2-variant rockets launched without any problems.
Just to be sure, Roscosmos inspected the Soyuz-FG rocket that would carry Progress MS-10 — the next space station cargo flight — into orbit. No problems were found and it was cleared for flight.
Launched at 18:14 UTC Nov. 16 from Baikonur Cosmodrome, Progress MS-10 successfully achieved orbit and began a 34-orbit, two-day rendezvous profile. Once it arrived to the space station, it docked to the aft port of the Zvezda module at 19:28 UTC Nov. 18. It carried some 2,450 kilograms of food, supplies and equipment to the outpost.
The Progress MS-10 arrival came near the 20th anniversary of the first space station module launch. The Zarya Functional Cargo Block was orbited on Nov. 20, 1998, by a Russian Proton rocket from Baikonur Cosmodrome.
NG-10 Cygnus arrival
On Less than 24 hours after Progress MS-10 docked with the ISS, Northrup Grumman's NG-10 Cygnus rendezvous with the outpost. Having launched Nov. 17, the cargo craft made its way to its capture point 10 meters below the Destiny module on Nov. 19. Expedition 57 Flight Engineer Serena Aunon-Chancellor controlled the 17.6-meter-long robotic Canadarm2 to grab the cargo freighter from its free-flight state. Capture was confirmed at 10:28 UTC.
The NG-10 Cygnus was named in honor of former astronaut John Young, who flew during the Gemini, Apollo and early space shuttle eras and was NASA's longest-serving astronaut having been part of the space agency from 1962 to 2004. He died Jan. 5, 2018, in Houston due to complications from pneumonia. He was 87. sing the robotic arm, Cygnus was positioned under the Earth-facing port of the Unity module. It was firmly attached at 12:31 UTC. Hatches between the spacecraft and space station are expected to be opened later today following leak checks.
Cygnus brought to the space station some 3,400 kilograms of supplies and research. Experiments aboard include a sensory input in microgravity study, an investigation that will attempt to understand how cement solidifies in various gravity environments using a centrifuge, and research into how simulated-early-solar system dust reacts to a "zap" of electrical current before studying its resulting shape and texture, according to NASA.
The spacecraft is expected to be unberthed in mid-February 2019.
Soyuz MS-11 arrival
With the success of the Progress MS-10 launch, human spaceflights were cleared to resume atop the Soyuz-FG rocket. As such, Soyuz MS-11 with Russian cosmonaut Oleg Kononenko, NASA astronaut Anne McClain and Canadian Space Agency astronaut David Saint-Jacques launched at 11:31 UTC Dec. 3, 2018, from Baikonur Cosmodrome in Kazakhstan.
Once in orbit, the spacecraft and its occupants began a six-hour, four-orbit chase of the ISS. Upon rendezvousing with the space station, the crewed vehicle autonomously docked to the space-facing Poisk module at 17:33 UTC.
Several hours of leak checks later, the hatches between the space station and Soyuz were opened at 19:37 UTC and they were welcomed by the already-aboard Expedition 57 crew.
Soyuz MS-11 was originally slated to launch on Dec. 20, but was moved forward three weeks to Dec. 3 — a rarity in the space industry. Additionally, the crew of Soyuz MS-09 — Gerst, Prokopyev and Aunon-Chancellor — postponed their return to Earth by a week to Dec. 20.
When Soyuz MS-09 and its crew leaves, Kononenko, McClain and Saint-Jacques will form Expedition 58. Kononenko will be its commander.
CRS-16 Dragon arrival
Continuing a string of cargo freighter arrivals, SpaceX's CRS-16 Dragon launched Dec. 5 with more than 2,500 kilograms of supplies to make a three-day chase of the ISS, arriving Dec. 8.
The capsule made it to its hold point 10 meters below the Destiny laboratory at about 11:00 UTC. There, it waited for the crew to use the 17.6-meter Canadarm2 to reach out and capture the spacecraft. However, a ground-based communications issue was noticed by ground teams, and mission control in Houston commanded the crew to issue a retreat command, prompting Dragon to move to a 30-meter hold point.
According to NASA, the communications issue stemmed from a failed processor at a ground station in White Sands, New Mexico. The processor connects mission control to the Tracking and Data Relay Satellite System network
Once communications was back, the team tried again at 11:50 UTC. Dragon moved away from its 30-meter hold point and moved slowly to its capture point 10 meters below the outpost.
Capture officially occurred at 12:21 UTC by Commander Gerst, who was at the controls of Canadarm2.
Over the next couple hours, the arm was used remotely by ground teams to move the vehicle to the Earth-facing port of the Harmony module, where it will remain berthed for about a month. Installation occurred at about 15:36 UTC.
This concluded a busy visiting vehicle period for the International Space Station program. In less than three weeks, four spacecraft arrived at the outpost: Progress MS-10, NG-10 Cygnus, Soyuz MS-11 and CRS-16 Dragon. In total, six spacecraft were attached to the outpost during this period — a rare occurrence. The other two vehicles were Progress MS-09, which arrived in July 2018, and Soyuz MS-09, which arrived in June 2018.
Dragon is expected to remain attached to the Harmony module until early January 2019. The six-vehicle docking configuration is expected to end when Soyuz MS-09 undocks on Dec. 20, 2018.
Russian EVA-45a
During a 7 hour, 45 minute spacewalk on Dec. 11, two Russian cosmonauts used a knife to peel back thermal insulation in order to inspect an area of the Soyuz MS-09 spacecraft where a small leak occurred and was repaired earlier in the year.
In August 2018, a minor leak was detected aboard the International Space Station. The source of the slow depressurization event was traced to the Orbital Module of Soyuz MS-09. Using an epoxy, the crew of then Expedition 56 quickly sealed the microcrack, which was described as about 2 millimeters wide.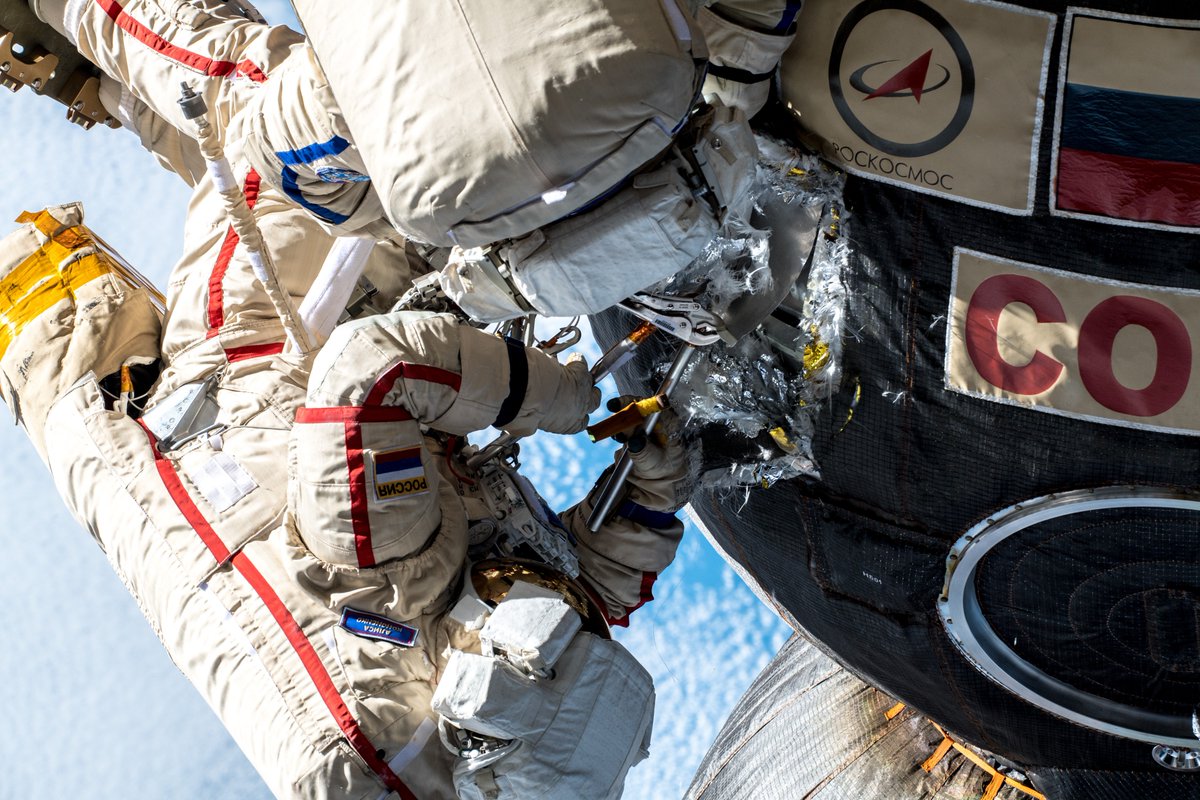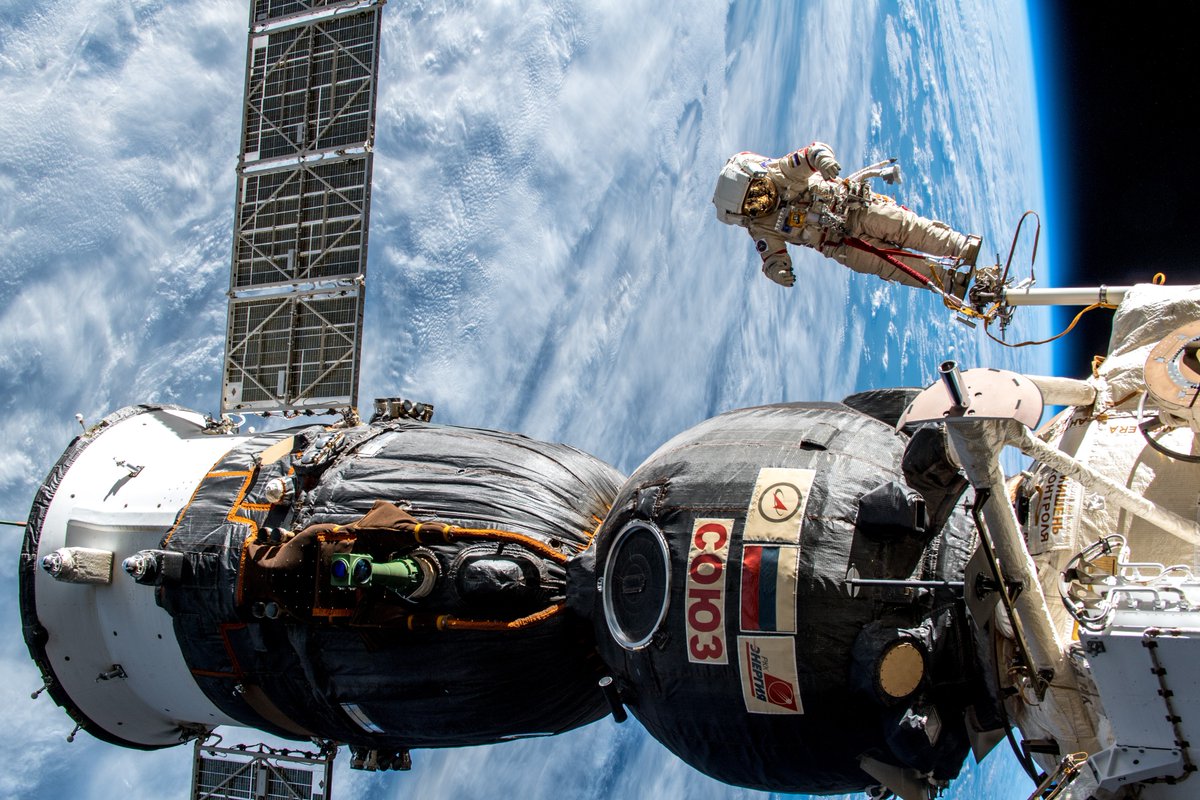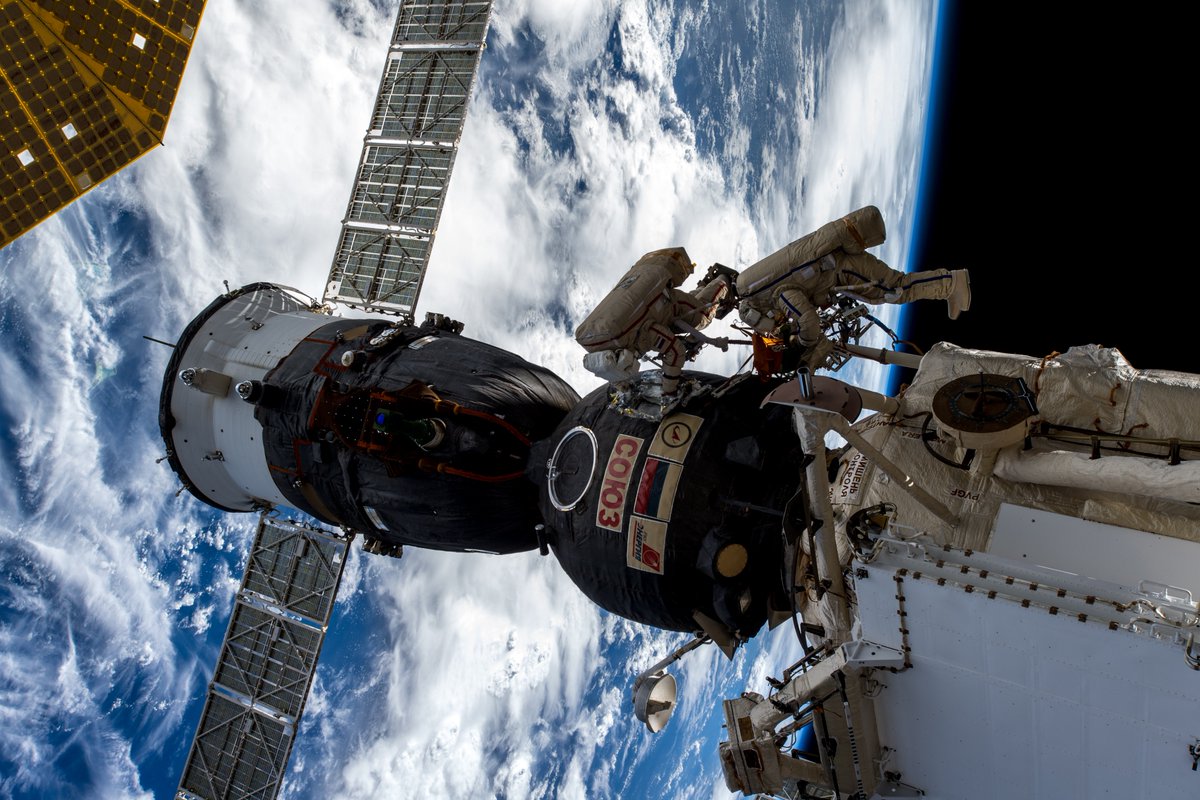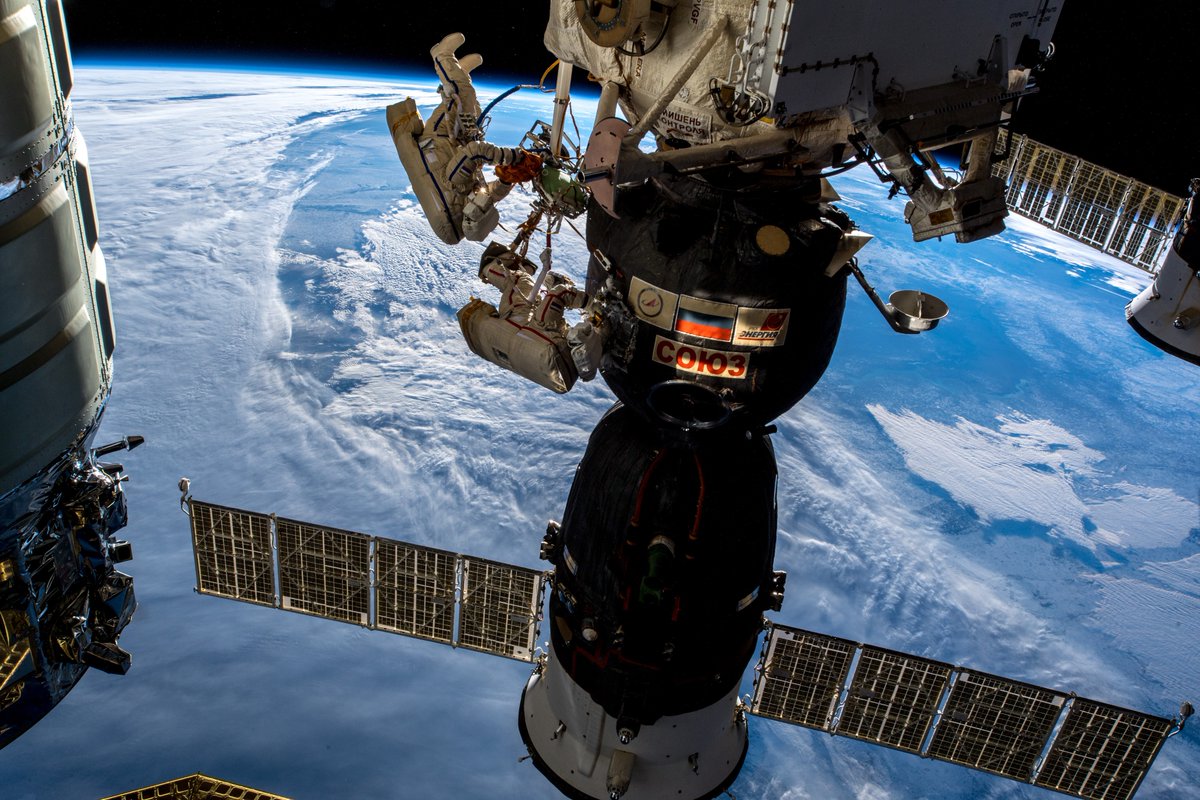 It was ultimately deduced that the hole was created on the ground during spacecraft processing. However, exactly when it occurred and who did it has not been publicly determined. Roscosmos boss Dmitry Rogozin described it as a "technological error," caused by a specialist.
Regardless, with the hole sealed—and no signs of leakage since August—it poses no risk to the trio that will return to Earth using Soyuz MS-09: Russian cosmonaut Sergey Prokopyev, European Space Agency astronaut Alexander Gerst and NASA astronaut Serena Aunon-Chancellor. The microcrack was in the Orbital Module, which is not designed to re-enter Earth's atmosphere intact. Following a deorbit burn, the three sections of the Soyuz spacecraft—the Orbital Module, Descent Module and Service Module—are separated with only the Descent Module with its human occupants making it to the ground safely.
Nonetheless, Russian engineers wanted imagery of the hole from the outside of the spacecraft with samples of any residue collected for analysis on Earth.
The spacewalk began at 15:59 UTC with Kononenko, wearing the suit with red stripes, and Prokopyev, wearing the suit with blue stripes, opening the airlock hatch on the Pirs docking compartment.
The main goal of the spacewalk was to cut into the Soyuz MS-09 Orbital Module's thermal insulation with a knife and cut through the micrometeoroid shield with shears. The task, while sounding simple, took up a majority of the spacewalks time between gathering supplies, getting to the location and collecting a sample of the epoxy that made its way through the sealed microcrack. It will be returned to Earth for analysis.
The two returned to Pirs and shut the hatch at 11:44 UTC.
Soyuz MS-09 departure, Expedition 57 ends
Prokopyev, Gerst and Aunon-Chancellor undocked from the ISS return to Earth in their Soyuz MS-09 spacecraft on Dec. 20, 2018. Undocking officially occurred at 1:40 UTC. A landing is expected about 3.5 hours later at 5:03 UTC.
The trio was original supposed to land Dec. 13, 2018, but because of the Oct. 11, 2018, Soyuz MS-10 launch abort, this date of the crew's return was postponed by about a week. Additionally, the Soyuz MS-11 crew launch was moved forward to Dec. 3.